Brother —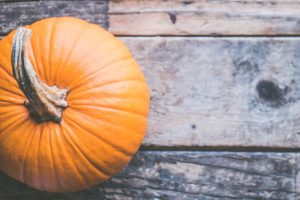 Over the past several years, each November, in anticipation of Thanksgiving, I like to call a pregame huddle to make sure that every Rock Solid grad is ready to maximize this one-of-a-kind holiday.
As a Kingdom leader, Thanksgiving provides a Grand Canyon-sized opening to lead well, serve well, and love well as we rally with family and friends.
Knowing that you may be the go-to person in your respective Thanksgiving gathering, what's your game plan for leveraging your leadership that day?
Let me jumpstart your thinking by uploading some prompts for your consideration:
During or after your feast, what if you were to…
Have each person pray a blessing on the person seated next to them. Consider using the blessing found in Numbers 6:24-26 as the lead-in to the blessing.
Seated around the table, give each person a blank sheet of paper with their name at the top. Then pass the paper around the table for each person to write down a few words of appreciation/affirmation about that person. Then have each person read aloud what was written about them.
Tell a Stone Story (Joshua 4). Invite your loved ones to hear about a challenging season in your life, sharing with transparency and calling out how your faith-walk is deeper as a result.
Bring a photo from the family archives of someone who has passed on and reflect on how your family is different/better because of their legacy.
Tee up a provocative question that shifts the conversation from everyday talk to eternity talk. "During these challenging days, in what unique ways have you experienced God?"
May your initiative (that's what leaders do) create space for the Spirit of God to visit with you and your loved ones in a way that moves your gathering to a holy, memorable Thanksgiving.

The Olson SixPack fired up for T-Day!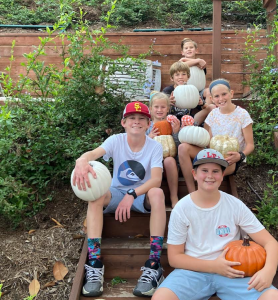 Hey, Brother — Now THAT was good! Really good!
It was awesome to rally with a backyard full of Rock Solid grads a few weeks ago for the Rock Solid Breakfast! (Check out the snaps below).
Here are a few out-takes for those who jumped into the mix!
The words of challenge were convicting and so needed in my life.
The Rock Solid ministry has expanded in such a Spirit-led way.
The time gave me a lot to think about as I try to discern what position the Lord wants me to play during the next half.
Saturday with the men was on another level.
I have two takeaways: "Shut the door" and "Kill the snake"!
The focus of our morning was to tee up the question:  Why are so many Christian leaders falling?  In tracking down that question Rock Solid coach and Lead With Your Life board member Garrick Hanger stated:
We care more about charisma than character.
We seek out gifted leaders over authentic leaders.
We value doing for God over being with God.
Brother, let's keep first things first. Let's call each other to a faithful walk with Christ…out of which we serve and lead from the overflow.
May we be counted not among the fallen, but among the faithful,

Chuck Olson
Founder | Lead With Your Life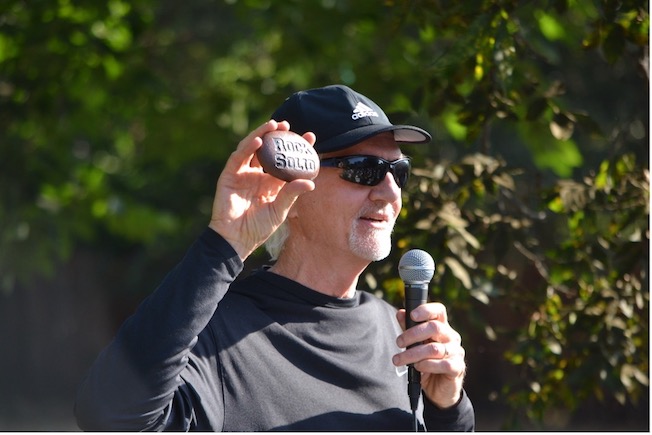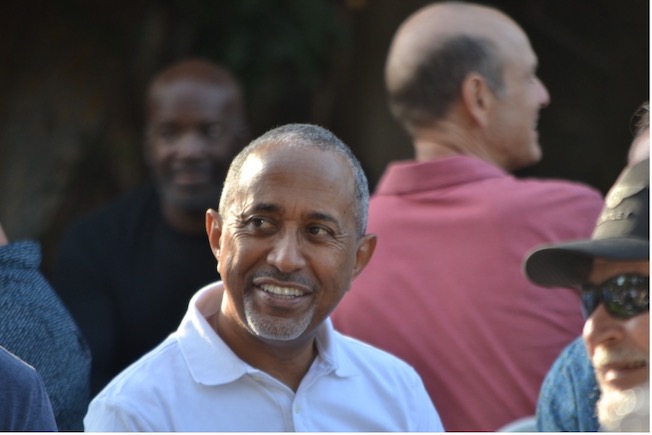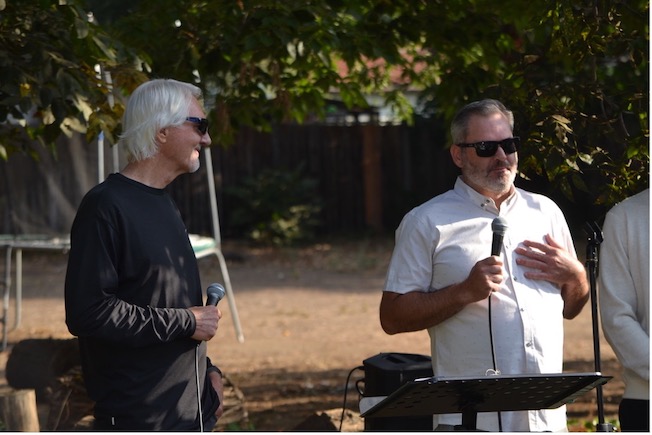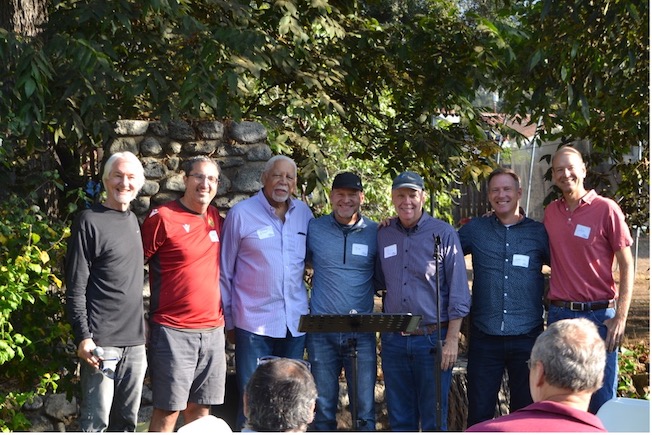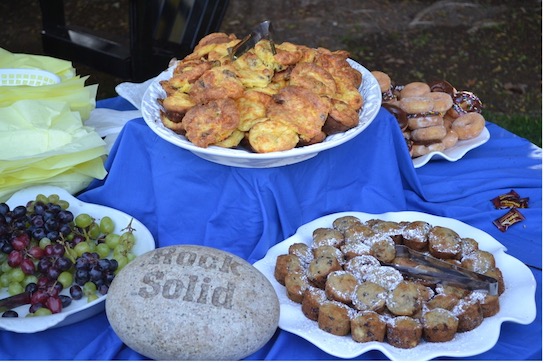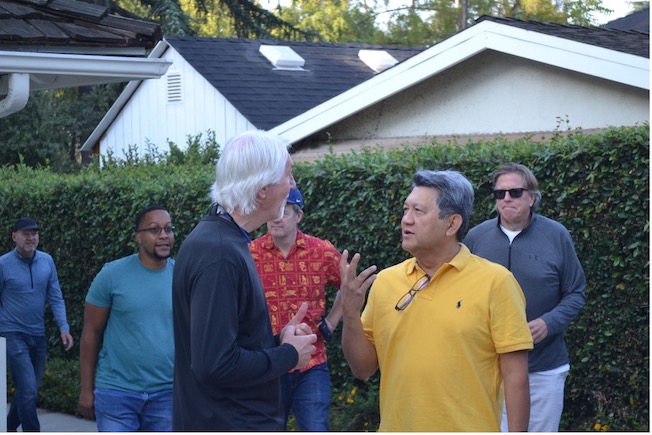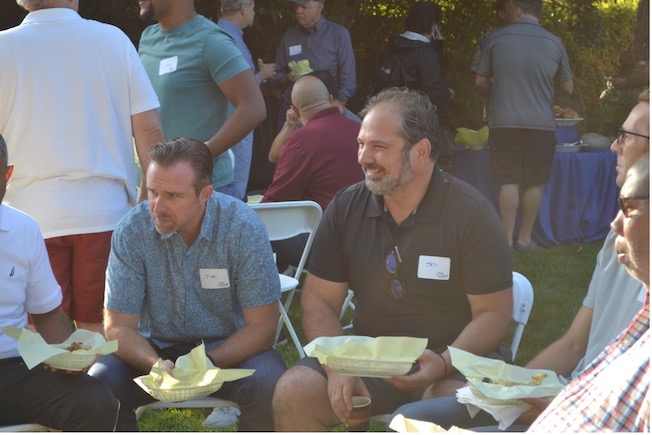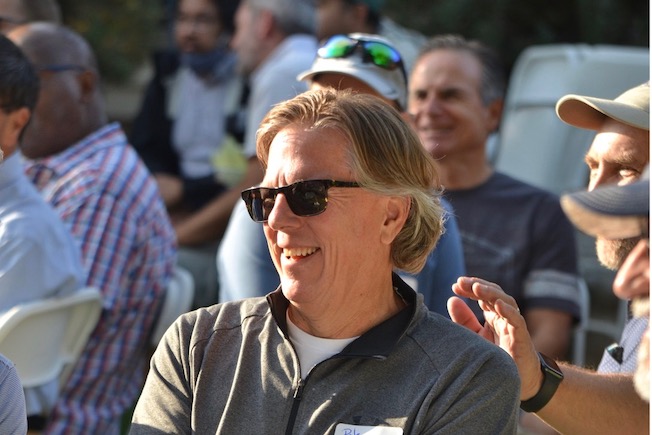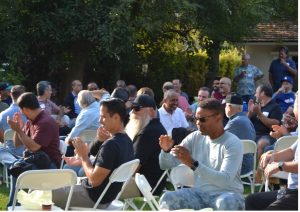 Hey, Brother — If we've not met personally, I'm Chuck Olson, founder of Lead With Your Life. And it's a privilege to welcome you to the 2021-2022 Rock Solid journey!
Rock Solid is not a class. It is not a curriculum. Rock Solid is an experience.
I believe with all my heart that this journey will transform your life and leadership. You will be challenged and stretched and perhaps at times, uncomfortable. You will be called to do the hard and courageous work of leading from a place deep within you.
At the end of the day, Rock Solid creates space for God to do an uncommon and irreversible work in your life and leadership.
But here's the secret: You've got to go get it.
Engage.
Do the hard work.
Be all in.
Do it for yourself. And do it for those who live downstream from your leadership influence.
Strength and honor,

Chuck Olson
Founder | Lead With Your Life
FYI: As a leader within the ever-growing Rock Solid brotherhood, I look forward to including you in two monthly posts: the Rock Solid Challenge (for all Rock Solid leaders—grads and present) and the Lead With Your Life Leadership Blog (a variety of topics related to leading from the inside out are shared). I trust these will provide a timely voice of encouragement and inspiration to you as a Kingdom leader.
Hey, Brother — This month, the 2021-2022 Rock Solid season starts.
Think back to your Rock Solid experience. It may have been last year. It may have been several years ago.
Reflect for a moment on how God met you during that time…and thank Him.
Maybe it was clarity on your Kingdom calling.
Maybe it was to engage with an ongoing community of like-minded brothers.
Or maybe it was to deepen your resolve to lead from the inside out as you cultivated new spiritual practices as a leader.
Not only does the world need you and your leadership, but YOUR own personal circles of influence needs you and your leadership!
But let's not go auto-pilot. Let's not cut and paste the leadership of power and position.
Let's do leadership Kingdom-style.
With simplicity and clarity, Jesus calls out true leadership: But whoever would be great among you must be your servant. –Mark 10:43 ESV.
 
So show up strong…to serve.
Every day give yourself away for the benefit and blessing of those who live downstream from your leadership.
You won't regret it. And neither will they.

This 2021-2022 Rock Solid season we will have: 12 Rock Solid groups. 28 coaches. 120+ participants. And one Holy Spirit who is ready to do His deep work of transformation.
 This month's Rock Solid Challenge is written by Kevin Hoist
who serves part-time as Lead With Your Life's Director of Key Initiatives.
Stay Committed to the Process
Hey Brother —
In 2014, I had the chance to participate in Rock Solid for the first time. I can still remember the stirring in my soul as I read the invitation email from Chuck Olson. The subject line alone gave me goosebumps –Are You Ready to Lead Like Never Before? By the time I finished the email, I was sure of the answer and I promptly fired off my confirmation response.
I wasn't quite sure what to expect, but my young twenty-four-year-old soul knew I needed this experience – the truth of the matter was that I had drifted in my relationship with God over the prior few years and I was deeply craving for a meaningful connection point with God and His community again.
As I prepare to coach my fourth Rock Solid group this Fall, I asked my family to describe what they have seen take place in me over the last several years. Here they are: Increased gratitude. Deeper humility. Higher character. Commitment to the process.
The last one is my favorite. Commitment to the process. I have come to realize that life and leadership do not operate on a linear line. It is not something one sets in motion and gets to place on "cruise control". As a result, there will be seasons where gratitude, humility and character need to be worked on. That is why it is critical for leaders to stay committed to the process.
What is the process that I am referring to? The process of God doing a deep work in us so He can do a deep work through us.
Despite challenges existing in and around me, I am fighting to stay committed to the process. In fact, I think I am falling in love with the process. I continue to discover a safe space of peace and freedom in my moments of silence and solitude with God that I would not trade for anything. It is the most important place I can be, and it has the most profound impact on my life.
Why is this place so important? Henry Nouwen explains it well…Without silence and solitude with God, we remain unconvinced of our worth. Instead, we will live each day striving for affirmation, praise, and success. Rather than being set free to love others, we will be endlessly seeking to prove our own value. We will labor to water our gardens by drawing buckets from the world's empty wells. In the end this leads not to love, but to a dry and weary existence.
Dry and weary existence. This is not the life that I want to pursue. And as we know, our life is deeply integrated with our leadership. If we are not living with God, it is not possible to lead with God.
So, my encouragement to you is to stay committed to the process. Fall in love with it. Continue to embrace the deep work God wants to do in your life and leadership. And be reminded: what He has started in you He will finish…Philippians 1:6—"being confident of this, that He who began a good work in you will carry it on to completion until the day of Christ Jesus."
On this journey together!
Kevin Hoist | Director of Key Initiatives
Brother – Take a look at these words from Henri Nouwen.
But first sit down.
And buckle up.
Contemplative life is a human response to the fundamental fact that the central things in life, although spiritually perceptible, remain invisible in large measure and can very easily be overlooked by the inattentive, busy, distracted person that each of us can so readily become.
Do you find his words challenging?
I do.
The longer I live the more I realize that I need to start each day pushing back against the relentless pace of life that too often leaves me "inattentive, busy, and distracted." Because if I don't, my life, my soul misses that which it needs most: a daily love relationship with the living Christ.
What are you doing DAILY to fan the flames of your relationship with Christ?
Recently, I renewed my commitment to memorizing (and more importantly, meditating) on Scripture. Long story short, I listed out a number of topics that I want to reflect on more and more: abiding, confession, hope, meditation, transformation, perspective, soul, worry, to name a few. From there, I have selected a verse that relates to that topic.
Not rocket science. But it works great! And since I have my cell with me most of the time, I put the verses in the NOTES section so that whenever I need to review or refresh my memory, it's right there.
One of my verses is Romans 12:1-2. In it is says: "Do not conform to the pattern of this world, but be transformed by the renewing of your mind."
The math is simple, right?
I want (and NEED) to be transformed.
Transformation happens as my mind is renewed.
My mind is renewed as I saturate myself in the truth of God's Word.
And when the Word of Christ richly dwells within me, my love relationship with Him goes deeper and grows richer…and those downstream from my leadership reap the benefits…

Brother –
During my grad school days at Dallas Seminary, I was introduced to the writings and sermons of Charles Haddon Spurgeon. To this day, his riveting articulation of biblical truth continues to inform and inspire my pursuit of Christ.
The other day, I came across one of his many stop-look-listen statements:
I have now concentrated all my prayers into one,
and that one prayer is this,
that I may die to self, and live wholly to Him.
Simple.
Straightforward.
And spot-on.
Brother, perhaps my prayer, my confession will prompt yours…
"Father, I confess my great need to die daily to myself. My self-centeredness. My selfish wants. My desire for more, bigger, better, newer. My time spent on lesser things. Thinking more about myself than about others. May my life be defined by an unrelenting pursuit of You…and You only. In the name of and for the sake of Jesus. Amen."
He must become greater and greater,
and I must become less and less.
John 3:30 NLT

Brother –
How in touch are you with your Kingdom Calling? Have you spent time meditating on it lately? Perhaps you've lost touch with the approach by which to process your Kingdom Calling?
Ruth Haley Barton so accurately reminds us of the proper order of understanding our calling:
Before calling has anything to do with doing, it has everything to do with being that essence of yourself that God knew before the foundations of the earth, that God called into being and that God alone truly knows. It is the call to be who we are and at the same time to become more than we can yet envision. Strengthening the Soul of Your Leadership, 77
This is a fresh reminder that our calling is not a thing to do but a person to be.
To that end, I challenge you to pause and ask yourself, "In this season, am I intentionally living into who God has called me to be?"
If you need renewed clarity on your Kingdom Calling, may I encourage you to spend time in solitude with your Creator?
Even now, take ten seconds to slow your mind down. Close your eyes. Softly whisper, "Lord, remind me once again who you have called me to be so that I can embrace who you are calling me to become."
Brothers, please make this prayer a rhythm of your life. Your Kingdom Calling matters that much.
Kevin
Kevin Hoist
Director of Key Initiatives
Brother –
Looking in the rear view mirror of your Rock Solid season, perhaps you will recall this penetrating comment from Henri Nouwen:
Our task is to help people concentrate on the real but often hidden event of God's active presence in their lives. Hence, the question that must guide all organizing activity…is not how to keep people busy, but how to keep them from being so busy that they can no longer hear the voice of God who speaks in silence.—Henri Nouwen, The Way of the Heart, 63
One of my takeaways from his provocative words is my need to dial down the rush and the noise and in turn rachet up my commitment to a lifestyle of REFLECTION.
In this pursuit, what I am learning about myself (and other leaders in my sphere of influence) is that I rarely sit in the presence of the Father and the truth of His Word LONG ENOUGH to have my life transformed.
So what does that look like? For me, one way that I am currently expanding my engagement in the spiritual practice of reflection is by simply taking a slow stroll through Psalms and Proverbs, reading a verse or two AND then inviting the Spirit to allow His truth to encourage me or guide me or to reveal something below-the-waterline that needs attention. And it's been refreshing. Revealing. Transforming.
Rock Solid brother, what steps will you take in the coming days to create space for the life-changing work our Father longs do you deep in your soul?

Brother —
2021. A new year. A fresh start. And a wide-open door of opportunity.
Are you ready?
Whether you took the Rock Solid journey back in the day or are currently there, you will recall our study of 1 Corinthians 9:24-27.
24 Don't you realize that in a race everyone runs, but only one person gets the prize? So run to win! 25 All athletes are disciplined in their training. They do it to win a prize that will fade away, but we do it for an eternal prize. 26 So I run with purpose in every step. I am not just shadowboxing. 27I discipline my body like an athlete, training it to do what it should. Otherwise, I fear that after preaching to others I myself might be disqualified. —1 Corinthians 9:24-27 NLT 
In 2021, is your plan to RUN TO WIN?
In the Kingdom economy, plans are preceded by prayers. Prayers that humbly confess that it is only in God's strength that we can run well the race to which we've been called.
So before we get too far into the new year, would you roll up your sleeves and write down a Prayer of Expectancy?
And can I suggest a preface to your prayer?
Father, by Your grace, and with the empowerment of your Spirit, in 2021 I ask that…
As you write out your prayer, in the spirit of Ephesians 3:20-21, pray BIG, with anticipation, leaving nothing on the table.
Father, by Your grace, and with the empowerment of your Spirit, in 2021 I ask that every Rock Solid brother would love, lead, and serve like never before. For Your glory. In the name of Jesus.

Adding Value…
With a deep commitment to encouraging your Kingdom leadership, starting this month, Kevin Hoist, LWYL part-time Director of Strategic Initiatives, will share with you as a Rock Solid grad an additional resource.
Here are his thoughts this month: 
With so much disorder around us, how do we maintain order in our personal lives so we can adequately lead those around us?
John Mark Comer addresses this challenge head on and says we need to have a "Rule of Life"–a schedule and a set of practices and relational rhythms that make space for 'abiding' and allowing us to live in alignment with our deepest desires.
As we head into 2021, I think it is wise for us to take a few minutes (4:41 to be exact) and consider the 7 daily practices and rhythms that John Mark presents in his video on this topic (Rule of Life). They are tangible, relatable and concise and they are a great starting point to ground our lives and leadership with order and intentionality as we embark on a new year.
Let's train so we may run to win in 2021
PS: If you're unfamiliar with John Mark Comer, he is the pastor for teaching and vision at Bridgetown Church in Portland, OR, author of The Ruthless Elimination of Hurry (a very timely and instrumental book in this season) and follower of Dallas Willard and John Ortberg. He believes the "way of Jesus is a way of life" and he loves teaching others how to practice that life.
Brother —
No debate, 2020 will finds its place in the record books. A year where over-used superlatives have abounded—unprecedented, extraordinary, unbelievable—to name a few.
But before we put 2020 in the rear-view mirror, let's be sure to grab hold of all the VALUE that we can.
From your Rock Solid days, you will recall the discussions we had about "wilderness"—a hard season, a desperate season. Yet a season where God was on the job, building and preparing you.
Don't let 2020 slip away without calling out what you have learned—about yourself and about your leadership. Don't waste the wilderness. Yes, the wilderness is hard, but it is an ESSENTIAL part of God's curriculum.
So grab your journal and sit in God's presence. Answer these questions:
Where was God at work in my life during 2020 in obvious ways? And where was He at work in subtle ways?
What quality of character has God refined and deepened in my life and leadership this past year? What quality of character has He exposed as a work in progress?
Showing up strong in 2021 starts first with stealing away in the quiet where we meet with the One who strengthens our soul so that we might go out and then pass that deep resolve of character along to others.
Never forget: Everyone's life gets better when a leader's life gets stronger!
In Him, with Him, for Him,

I urge you to live a life worthy
of the calling you have received.
–Ephesians 4:1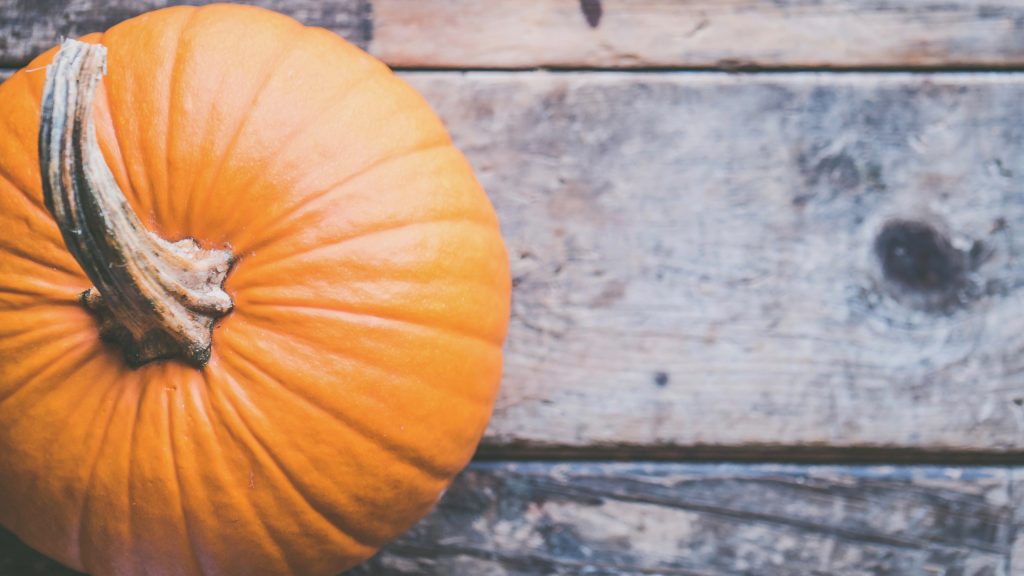 Brother – Thanksgiving is coming fast! And if we ever needed it, 2020 certainly qualifies as the year. Without debate, it's time to hit a huge PAUSE button. In the middle of extraordinarily challenging days, we need to call out our blessings.
With health and safety precautions being what they are, perhaps your Thanksgiving day will look different in 2020 than in years past. But regardless of who and how many may be at your Thanksgiving table, as a Kingdom leader, I want to have you consider how you will lead well, serve well, and love well during your gathering with family and friends.
To that end, let me jumpstart your thinking by uploading some thoughts I share every year at this time with Rock Solid grads.
Question: Knowing that many of you will be the point person in your respective Thanksgiving gatherings, what's your game plan for leveraging your leadership that day? How will you capitalize this day to focus on what matters most?
During or after your feast, what if you were to…
Tell a Stone Story (Joshua 4). Invite your loved ones to hear about this challenging season in your life, sharing with transparency and calling out how your faith-walk is deeper as a result.
Bring a photo from the family archives of someone who has passed on and reflect on how your family is different/better because of their legacy.
Tee up a provocative question that shifts the conversation from everyday talk to eternity talk. "During these unprecedented days, what have you been learning about your need for His presence in your life?"
Perhaps one of your guests is aging (and their presence at next year's gathering is uncertain), so take some time to call out why you are thankful for this person.
May your initiative (that's what leaders do) create space for the Spirit of God to visit with you and your loved ones in a way that moves your gathering to a holy, memorable Thanksgiving.

Post a comment below about your plans
Brothers – I've got some great news to share with you!
This month, Lead With Your Life welcomes Kevin Hoist to its ministry team, serving in a part-time role as Director of Key Initiatives. For the past few years, I have been asking the Lord to expand our impact by adding a next-generation leader to the team. And He has done just that! One of Kevin's initial areas of focus will be to deepen the ongoing experience of Rock Solid grads, including RS Huddle Groups.
Many of you know Kevin, but for those who don't here's a great photo and a few brief words of introduction.
Kevin's leadership has been significantly impacted by Lead With Your Life and in many ways it has been a catalyst for the expanded vision that has been instilled in him. He has been a Rock Solid coach for a number of years and will continue on with that, but is also excited to contributing to the organization in a more formalized partnership. The timing could only have been orchestrated by God.
After spending a successful 10 years at one of the top accounting/consulting firms in the country, Kevin has received confirmation that God is calling him to expand the vision for his talents and leadership. Kevin is a Kingdom leader whose passion is to invest in people, desiring for them to understand and step into their God-given potential. While he will ultimately expand this calling into multiple spaces, he is deeply excited for Lead With Your Life to be one of them.
Growing together for His purposes,

Kevin can be reached at Kevin@leadwithyourlife.com.
Brother,
Got a question: What is the least understood, too easily overlooked, yet most important thing about you?
Answer: Your soul.
This summer, along with a Zoom-full of Rock Solid grads, I took a five-week deep dive of discovery. I wanted to more fully understand the centrality of the soul in the life of a leader.
It was good.
Check that. It was life-changing.
While it would take pages to upload adequately the trek we took, I'd like to share a few things curated along the way.
Each of us crafted our own description of the soul. Here's my take: The soul is the unseen operating system that serves to integrate and to provide meaning to all that I am and all that I do.
We read Soul Keeping. I HIGHLY recommend it. It will rock your world and expand your desire to live from a deep place of a centered and healthy soul. Check out these 

Book Notes

 to get a snapshot of what we processed.
We journaled every morning for 55 days, asking these two questions: First, Yesterday, my soul was most alive when… And second, Yesterday, my soul felt neglected or compromised when… It was VERY revealing. Try it. The take-home value is inestimable.
And we learned the value of REFLECTION—the deliberate process of considering a truth in the presence of God long enough that it deepens you or changes you. In our over-subscribed, easily-distracted world—not to mention an ever-elongating pandemic—this is a spiritual practice that is largely forgotten…to our peril.
I could go on. But let me stop and leave you with a challenge:
Believing that your soul is the most important thing about you,
what will you do today to cultivate and care for it?
Reflect on it. Write it down. Get a game plan in place on how you are going to intentionally be the keeper of your soul.
"Father, as leaders who are committed to being rock solid on the inside and dangerous for the Kingdom on the outside, grant us fresh eyes to see how to attend more fully to the most important thing about us—the state of our soul. In Your powerful name, Jesus, we ask this. Amen."
Then Jesus said to his disciples,
"If any of you wants to be my follower,
you must give up your own way, take up your cross, and follow me.
If you try to hang on to your life, you will lose it.
But if you give up your life for my sake, you will save it.
And what do you benefit if you gain the whole world
but lose your own soul?
Is anything worth more than your soul?
—Matthew 16:24-26 NLT
Rock Solid Leaders:
The other day I was reading a post and immediately knew I wanted to share it with you, my Rock Solid brothers.
The title of the post is 25 Random Pieces of Advice for Leaders in their 20s-30s-40s. It is written by Carey Nieuwhof. While his audience tips in the direction of leaders in vocational ministry, his counsel is solidly for all of us (including those who live north of 20-30-40 😉).
Here are a few of my top-picks from this write:
1. DEAL WITH YOUR ISSUES EARLY
You have issues. Everyone does.
As tempting as it is to believe otherwise, it's not your wife, husband, kids or job who are causing all the pain in your life. You are the common denominator in everything that's happened to you. So deal with you.
Go see a trained Christian counselor. Hire a coach. Read some books. Do what it takes to deal with your junk.
4. STUDY AND PRACTICE FAITHFULNESS
Faithfulness is rare. Not just in marriage, but also in life.
Culture teaches us to dispose of anything or anyone we don't like.
So do the opposite.
Learn how to be consistent, loyal, and steadfast, holding to what you know is right even when you feel like doing the opposite.
7. CHOOSE A FEW AWESOME FRIENDS AND STICK WITH THEM
Friendships can be confusing in your 20s, 30s, and 40s. Friendship circles change when you leave school, get married and even change jobs.
In the midst of all that change, find a few friends, and stick with them for life.
Most people can only handle 5 really close relationships in their life. Choose those 5 well and build into those relationships deeply.
10. RELENTLESSLY PURSUE SELF-AWARENESS
Self-aware people make the best leaders and frankly, are the easiest people to hang out with in life. Chances are your favourite people are people who are deeply self-aware.
But self-awareness doesn't come naturally. I'm naturally blind to the impact I have on other people around me.  So are you. If you want more on this issue, here are 4 things self-aware leaders know that others don't.
13. GET COMFORTABLE WITH SOLITUDE
Solitude is a thoughtful leader's best friend. It also is a key to self-awareness.
If you really want to grow as a person and as a leader, and grow in your relationship with God, get comfortable with solitude. 

17. DON'T GIVE INTO STUPID TEMPTATIONS THAT WILL COME YOUR WAY
You will be tempted to do stupid things. Don't.
Don't have an affair, take short cuts or cheat to get ahead.
It's so not worth it.

20. WORK TWICE AS HARD ON YOUR CHARACTER AS YOU DO ON YOUR COMPETENCY
Competency is not the main key to success. Character is.
Your competency will take you only as far as your character can sustain you.

23. BOOK APPOINTMENTS WITH YOURSELF
Your calendar will naturally fill up with urgent things other people believe are important.
And you will watch a decade or more pass by without doing anything really significant.
Book appointments with yourself to do what really matters, whether that's taking a day off, being with your family, writing an important talk, or taking time to think.
Then when someone asks you if you're busy, you can truthfully say "I'd love to help, but I have a commitment."

Good stuff, huh? 
 
My CHALLENGE to you my Rock Solid brother: Calendar some one/one time alone with the Father. In the spirit of Psalm 139:23-24, ask Him to reveal to you which of these words of advice was written just for you.
 
You see, at the end of the day, leading well is simply identifying your NEXT FAITHFUL STEP of following the One, the only One, worth following.
 
Let's go!


Brothers, Allow me to share my heavy heart…
Like you, I've been trying to take in all the swirling events of these unprecedented days. Reflect. Understand. Pray. In that effort, for me personally, I need to write. I trust that my thoughts and reflections will serve you as you do the same.
There is no debate that our country is in a desperate place. Daily we are reminded of the deeply-seated, long-standing evils of racism, of injustice, of inequality. As you know, Lead With Your Life is an organization commissioned by God to equip Kingdom leaders. As such, we stand in heart and in spirit with all who cry out for God's healing, restoration, forgiveness, and righteousness.
I mourn with my brothers and sisters who face the sins of racism and injustice and who live in fear as a part of their daily experience…and boldly declare that this is wrong, that it grieves the heart of God, and that it cannot, it must not continue.
At this pivotal moment in history, I want to share several things that are serving as anchors to my soul during these tumultuous times…and I trust they will do the same for you.
The Scriptures serves as my guide and authority and tells me unequivocally that every person is created in the image of God.
My highest calling as a follower of Christ is to love God and to love my neighbor.
While affirming that all lives have inherent worth, given this significant moment in history, against the backdrop of the long-standing evils of racism, it must be said with all clarity and certainty that the lives of all African Americans are precious and of infinite worth.
Any and all privileges a person possesses are to be seen and leveraged as a sacred stewardship for the benefit and blessing of others.
A calling and a burden to raise up leaders who relentlessly seek God's will on earth as it is in heaven.
That lasting change concerning the prevailing evils of our day ultimately happens when a heart is transformed by and through a saving, redemptive relationship with Jesus Christ.
Finally, Brother, as a Rock Solid alum, we have called ourselves to be leaders who are rock solid on the inside and dangerous/courageous for the Kingdom on the outside. To that end, in that spirit, and in recognition of these days, I ask you the question that I ask myself: What does Kingdom courage look like…today…for me? Take that question to the prayer closet. Lean in. Listen. Discern.
And then show up strong…for everyone bears the Imago Dei.
…the Lord has told you what is good,
and this is what He requires of you:
to do what is right, to love mercy,
and to walk humbly with your God.
—Micah 6:8 NLT

Rock Solid Brothers,
Like yours, my heart is undone, overwhelmed.
Anger.  Grief.  Confusion.  For starters…
For me, the unprecedented days of the coronavirus have been eclipsed by the brutal and evil deaths of Ahmaud Arbery and George Floyd.
My heart is broken. For Ahmaud's and George's loved ones who will never again sit down over a meal to laugh and love and cry together. For my black friends who received yet another reminder that they live with a risk many of us will never know. For a nation that is a mixture of good and evil, of respect and prejudice, of heroes and devils.
Yes, my heart is broken. And I need to sit in that brokenness. Let it sink in—deeply. And with the psalmist, lament "How long, O Lord, how long?"
And with words that feel so inadequate, I say to my black brothers…
You are my friend. You are my brother. We are one—bonded in and by the blood of the living Christ. I love you. I stand with you. I lock arms with you in fighting for the justice owed to you—to every bearer of the Imago Dei. I commit to understanding more deeply what it's like to walk in your shoes. I am on my knees asking our Father that His kingdom would come…that His will would be done…on earth, as it is in heaven.
This is the cry of my heart…

Rock Solid Brothers,
Like you, given these days of DON'T ROAM-STAY HOME, my weekly worship has shifted from in-person to online. In a recent remote time of 'corporate' worship, the song Ancient Words was sung.
And it moved me deeply. To tears.
The words reached out and gripped my heart…
Ancient words,
Ever true,
Changing me,
Changing you.
Not fully sure why it hit me so hard. I guess I was caught up in the overwhelming and humbling reality that God has faithfully and graciously (and patiently) used the truth of His Word to make me different.
I was undone by the thought of where I would be…who I would be, save the transforming work of His Word in my life.
No doubt, I've got a long way to go. But I am forever grateful that God placed my feet on the solid rock of His truth.
In the most significant sermon ever preached—in-person or online—Jesus places it all into perspective:
These words I speak to you are not incidental additions to your life, homeowner improvements to your standard of living. They are foundational words, words to build a life on. If you work these words into your life, you are like a smart carpenter who built his house on solid rock. Rain poured down, the river flooded, a tornado hit—but nothing moved that house. It was fixed to the rock. —Matthew 7:24-25 MSG
Brother, during these unprecedented days, let's lean into and build upon these "foundational words."
And let's guide our loved ones to do the same.
I love you, Brother.