Dear Partner –
In many ways, my life is a reflection of those who made a deliberate choice to invest in me and my leadership.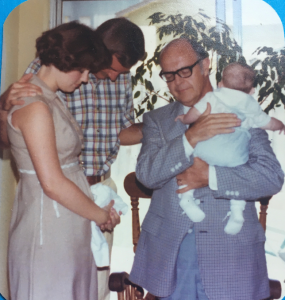 One of those was Dr. Howard Hendricks, known simply as "Prof" to his Dallas Seminary students. Prof and his wife Jeanne were faithful mentors to Pattie and me during those stretching grad school days as newlyweds and first-time parents.
Their imprint and impact on us is more alive today than ever!
So I couldn't help but want to give you a glimpse of "back-in-the day" through this photo, circa 1979, when Prof dedicated our firstborn Boe David Olson at our home. What a priceless memory!
The other day, I came across a list of leadership wisdom that Prof delivered in class one day. Words that have encouraged, challenged, and stretched me in the years since. Do they resonate with you?
The Ten Hardest Truths About Being a Leader
It's lonely to lead.
It's dangerous to succeed.
It's hardest at home.
It's essential to be real.
It's painful to obey.
Brokenness and failure are necessary.
My attitude is more important than my actions.
Integrity eclipses image.
God's way is better than my way.
Christ-likeness begins and ends with humility.
When I read this list, I am reminded again and again that 
leadership has little to do with being in charge but has everything to do with humbly giving myself away for those entrusted to my care.
 Jesus, who knew the value of an economy of words, put it this way 
"Whoever wants to become great among you must be your servant."
Read that list again. Let it soak in. Select one of the ten that resonates with you most deeply, and bring it to the Lord in a reflective quiet time, asking for His support and strength in that area. There is always a next faithful step in the pursuit of leading with your life.
I want to thank you for supporting the mission of Lead With Your Life as we continue to grow. God is faithfully opening new doors of impact as we carry out our mission of equipping leaders to lead with integrity, from the inside out. This month, LWYL brought a new member onto our team. Read about this addition and why we believe he is such a qualified leader to step into this role.
Would you join me in praying specifically for God to grow our monthly financial foundation as our ministry continues to expand?
Everyone's life gets better when a leader's life gets stronger!
With great gratitude,

Dear Partner –
Over the past month, does this daily scenario ring a bell?
A 38-year-old dad. Three kids. Two cars. And one daily rhythm of life—compliments of the global pandemic—that looks like a sit-com…but not really that funny!
Trying to conduct business remotely (with his wife doing the same at the other end of the house), juggling two Zoom online school sessions for an eight-year-old and a ten-year-old, and a toddler in the mix creating unimaginable madness! All on different schedules. Alexa reminders going off every fifteen minutes. Snack time. Lunch time. You get the picture. And toss in a local power outage for good measure, stealing both the WiFi and AC.
In short, the everyday reality for this family requires a steadfast and centered leader.
It is for the demands of life and leadership that Lead With Your Life exists. We believe wholeheartedly that everyone's life gets better when a leader's life gets stronger. Driven by this conviction, we equip Kingdom leaders to lead from the inside out…with their lives…showing up in the middle of life's chaos with a life rooted deeply in Christ.
And this conviction leads to action.
Over the next two weeks, LWYL will launch EIGHT Rock Solid groups. All groups are at capacity. That means there will be 98 leaders who are being equipped to lead like never before!
And here's the bottom line: Your prayers and your financial support are providing this much-needed resource and opportunity.
So on behalf of these 98 leaders, I want to shout THANK YOU! Your partnership impacts the lives of leaders who turn around and impact the lives of countless others. That is Kingdom ROI.
And with our expanding mission comes the important need to expand our financial foundation. If you're not already on our monthly partnership team, we'd invite you to join in. The need for Kingdom-minded leaders is greater than ever!
With great gratitude,

PS: Recently, through a very generous donor, LWYL introduced a new website that provides monthly resources, the online materials for our 2020-2021 Rock Solid leaders, stories of what God is doing, and a short bio about our board members who so faithfully serve with me. Check it out!
Dear Partner  –
To state the obvious: Our lives are ONLINE. Online work. Online school. Online church. Online shopping. Even Online connecting with friends. And…Online fatigue. (Can I get an AMEN?) And we are missing the day-to-day physical presence of you our dear friends.
So I thought I would send you a couple of really practical gameplans that I have put in place for myself that have proven to be lifesavers during these crazy of times.
First, as one who believes strongly in the synergy of body/soul/mind/spirit, I find great value in working out, daily. Ahh…but the gym closed. Reopened. Then closed again! Enter the 'garage workout'. For under $60, I got some resistance bands and a yoga mat. Uploaded a workout video. And I was good to go, reaping the benefits of a good sweat and a dose of endorphins. And suddenly, intense heat hit, smoke from the epic fires, and so my workouts moved to the living room! Without some kind of daily exertion, movement of my body, my brain doesn't function as clearly and I become fatigued much more easily. I feel depressed and much more edgy. What about you? Have you thought about how you are keeping yourself fortified during these intense days? What about putting a treadmill in the home office or den or a recumbent bike in the bedroom or following along on a fun video routine in the dining room (with chairs moved!). Or maybe you are close to the beach – head there to take some laps. The point I am making is to be creative to find something that works for you, even during, especially during, these more precautionary days.
Second, I am taking refuge and strength from a slow daily walk through the Book of Psalms. Here I find the language to call out—and at times, to cry out—the stirrings of my soul. Dallas Willard, who I never met personally but who mentored me profoundly in my pursuit of Christ says: "If you bury yourself in the Psalms, you emerge knowing God and understanding life." There's an offer I cannot refuse! Candidly, I need to choose not to ENDURE the pandemic, but to ENGAGE it, being alert to ways I can stay centered and be a blessing to those in my areas of influence. Because the reality is that there are things I have discovered about God that I missed when life was copacetic.
A quote from one of my professors in seminary days was posted on Facebook recently by my good friend Jim Killion. In the tension of these times, these words offer a really good perspective and reminder.
"Life is vague. Life is futile. Try as you will, you will never really figure it out. Because that is a reality, because you will never get the key to life, then you must come to put your trust in the Keeper of the key. You must come to live in reliance on the sovereign God of heaven. You must live in His goodness, taking each day from His hand, rejoicing in the labor He has given us, the tasks we are allowed to do. And we must live responsibly before Him, for we shall give an account to God.… That is what this ancient preacher is calling us to do. To live our days with a whole-soul faith in the good and sovereign and holy God of history. And in doing that we can step where we cannot see; we can trust when we cannot taste; we can undergo even what we do not understand."
– Haddon W. Robinson, Ph.D.
Let's encourage our loved ones and friends to see and call out the goodness and grace of God…even when life is turned upside down on so many fronts. Find some rhythms that invigorate you, and hold on to them for dear life, especially during this season we are in.
I would be remiss to not say a word of THANKS to YOU for your strong and faithful support to Lead With Your Life. This fall eight filled-to-capacity Rock Solid online groups will launch. And your partnership allows for this to happen…all for His glory.
Fighting for the hearts and souls of Kingdom leaders,

Chuck Olson
Chuck@leadwithyourlife.com
Dear Partner  –
What's your favorite time of the year? If you are like me, you've got a lot of them. Hard to pick just one, right? Without question, my batting order of favorite times circle around family gatherings, especially with my six grandkids—"The SixPack." (I'm sure you're not surprised by this!)
But when it comes to the significant work of Lead With Your Life, one of my favorite seasons is right now. During the summer months, every day I am praying, planning, discerning, and preparing for the fall launch of Rock Solid groups. And I am so encouraged and expectant for what lies ahead!
In September, Lead With Your Life will launch nine Rock Solid groups. This translates into over 100 leaders participating in the nine-month discipleship journey of becoming more rock solid on the inside and more courageous for the Kingdom on the outside. And I can't wait!
Mark it down: Your partnership is allowing our work with leaders to multiply over and over again.
THANK YOU!
Fighting for the hearts and souls of Kingdom leaders…together,

Chuck Olson
Chuck@leadwithyourlife.com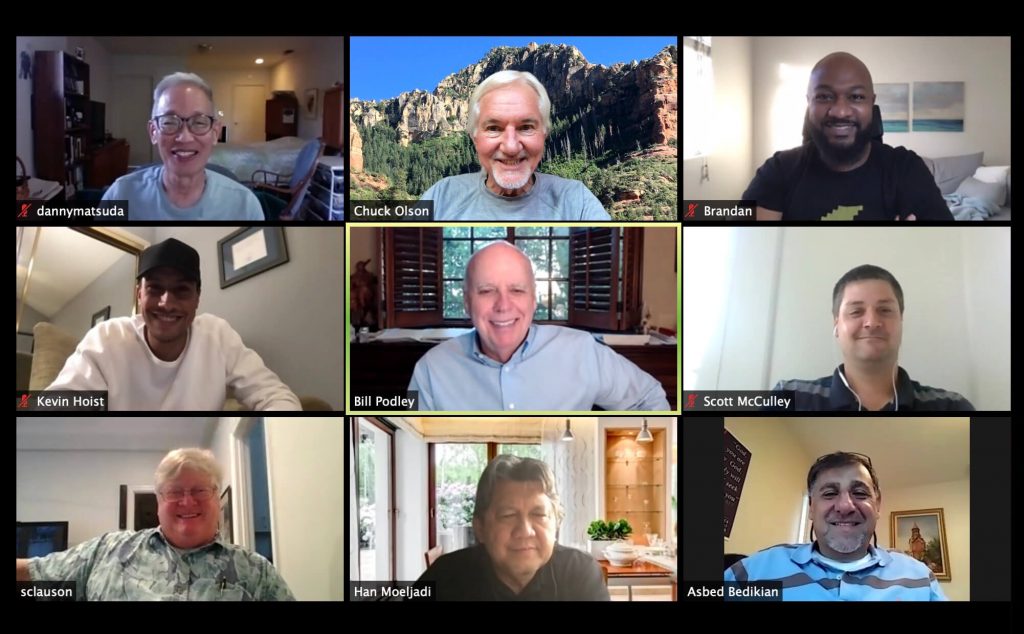 Dear Partner  –
Don't you find these words captured on video by three of my six grands to be life-giving and hope-filled? During these days of uncertainty, fear and so many unknowns, the anchor of God's promises holds us steady and secure. He indeed is the Way Maker, Miracle Worker, Promise Keeper, Light in the Darkness—all the time, but especially in these times.
I want to also take a moment and thank you for your faithful and much appreciated partnership in supporting the mission of LWYL. Thank you also for praying for God's anointing on the ministry. Your prayers are valued and critical for: the daily coaching, discipling, and mentoring of leaders; the formation and invitations to join one of nine Rock Solid groups this next season; and the launch of our first five-week Rock Solid 2.0 Soul Care for RS grads beginning in a few days (which will be offered again in upcoming months). I am in the trenches with leaders every day, walking with them arm-in-arm to equip them to love well, lead well, and serve well.
Together we are creating the opportunities for God to shape the hearts of Kingdom leaders to be more like His.

Chuck Olson
Chuck@leadwithyourlife.com
PS: Thank you for your faithful financial partnership as we grow the ministry. If you are not yet a monthly partner, we'd be honored to have you join us.
Dear Partner –
Pattie and I pray that you and your loved ones are navigating with grace and insight the twists and turns of these very challenging days. Not only are we affected by the pandemic, but even more so, we are challenged by the harsh reminders that our world is filled with the evils of racism and prejudice. We cry out, "Father, help us. Heal us. And may Your Kingdom come, may Your will be done, on earth as it is in heaven."
In the middle of all that is happening around us, I want to take a moment and share with you, as our faithful partner, what the next few months look like for Lead With Your Life.
First, I want to thank you and acknowledge again God's favor and provision in allowing us to reach our Matching Gift Opportunity in April. Because of this, we continue fully-focused on the mission and movement of equipping Kingdom leaders.
I also am excited to let you know about a next-step for Rock Solid grads. As you know, Rock Solid is the primary initiative of LWYL—a nine-month discipleship journey for leaders. From the 270+ Rock Solid grads, I am often asked if they could participate in some kind of "2.0" experience. So this summer, for five weeks, a small group called Rock Solid Intensive: Leading With Soul is happening! (The cohort filled up immediately, so we will indeed be offering it again.) Your prayers are appreciated as I prepare, seeking God to deepen understanding about the centrality of taking care of one's soul as a leader.
Last month, we wrapped up the six Rock Solid cohorts that had been meeting for nine months. To hear firsthand how God has worked in the lives of these influential leaders was deeply humbling and incredibly rich. Below are a few photos of the leaders, along with their wives, on our wrap-up Zoom call.
In the upcoming weeks, I will be in dialogue with dozens of leaders about the 2020-2021 RS season. I am praying for nine Rock Solid groups to form—four that I will lead and five that will be led by those who have co-led with me in a previous season. We feel God's wind at our backs as we make these plans for the fall.
With my transition from pastoring to full-time LWYL focus earlier this year, I was able to open up additional one-on-one coaching spots. I am now at full capacity, and actively coaching both marketplace and ministry leaders.
As this chapter of unprecedented times continues, the need for courageous, influential leaders is more critical than ever before. As a partner, thank you for keeping the work of LWYL covered in prayer. And for me personally, ask Him for an overflow of wisdom as I mentor and disciple leaders who are facing difficult and disruptive challenges.
And on a final note…you will notice an upgraded LWYL website in the next few months. A dear friend and expert in the field is generously providing us with a more robust and strategic digital platform. Among many of its benefits, the website will serve as a centralized location for the Rock Solid notebook. This is key to our growth as we continue to virtually explore and leverage the mission and message of LWYL.
Long story short, we are in GO-MODE!
While our current realities pose a lot of challenges, it also presents a lot of opportunities. The drumbeat of Rock Solid is to BE PREPARED—be ready to step up when God opens new doors. As followers of Christ, as Kingdom leaders, we are seeing this happen as never before.
I am deeply grateful for you! You empower and enable this ministry to equip the kind of leaders this world so desperately needs.
Fighting for the hearts and souls of Kingdom leaders…together,

Chuck Olson
Chuck@leadwithyourlife.com